Main content starts here, tab to start navigating
Downtown Asheville
Lunch
Starters
Mozzarella En Carozza

Beer battered mozzarella & sourdough sandwich, plum tomato sauce

$13

vegetarian

ARANCINI

Crispy saffron risotto balls, parmesan, basil, plum tomato sauce

$13

Grandpa's Meatball

½ pound, 6 hour sauce, parmigiana, basil

$13.50

WINTER CAPRESE

Roasted tomatoes, burrata, basil pesto, balsamic honey

$14

Crispy Brussel Sprouts

Eastern NC BBQ, blue cheese, pecans, chili mayo.

$13

vegetarian

Add pulled pork $5

Hummus Trio

Traditional, black bean, red lentil & roasted carrot, feta, pita, veggies

$13

vegetarian

FOCACCIA

Fig jam, ricotta & honey, whipped salted butter.

$13

Add Chef's selection of meats $8
Greens
Caesar

Traditional, as you would expect it

$9.50

Greek Salad

Greens, cabbage, carrots, tomatoes, Kalamata olives, cucumbers, pepperoncinis, red onions, feta

$10

gluten free, vegetarian

House Salad

Greens, cabbage, carrots, tomatoes, cucumbers, red onions

$9

gluten free, vegetarian

Dressings

Greek, Ranch, Blue Cheese, Caesar, Oil & Vinegar

Add Ons

Lamb $4.50

Chicken $5

Trout $6

Veggie "Burger" $7
Stone Hearth Pies
12" pies | Gluten free crust $3 | Additional toppings are $1 each | Extra cheese is $2
Italian Hero

Pepperoni, salami, capicola, soppressata, Italian sausage

$16.50

White Pizza (No Sauce)

EVOO, garlic, ricotta, fresh mozzarella, provolone, fontina, fresh oregano

$15.50

vegetarian

Black Trumpet Farms Shroom

Local wild shrooms, plum tomato, fresh mozzarella, garlic, sea salt, cracked pepper

$16.50

vegetarian

Jersey Inspired Cheese

Fresh basil or add your favorite toppings

$14.50

vegetarian

Craft Your Own Pies

Meat Toppings*: Pepperoni, Soppressata, Italian Sausage, Bacon, Salami

Veggie Toppings: Tomatoes, Olives, Bell Peppers, Onions, Wild Mushrooms, Garlic
Handhelds & More
All handhelds are served with your choice of house cut & seasoned fries or chips. Gluten free bun $2
Philly Steak Sub

Ribeye or chicken, mayo, mozzarella, choice of side

$13.50

Add onions, peppers & mushrooms $1

VEGGIE "BURGER"

Sweet potatoes, black beans, lettuce, tomato, red onion, avocado spread

$14

Chicken Tenders

Plain, Buffalo, Lemon Pepper Dry Rub, Cheerwine BBQ, Mango Chili

$13

Grilled Trout BLT

Carolina Mountain trout, tomato, lettuce, thick cut bacon, Duke's mayo

$14

Southern Fried Chicken

Lemon slaw, pickles, special sauce, traditional bun

$13.50

GRILLED CHEESE & TOMATO SOUP

3 cheeses, artisan bread

$14

Smashburger

Mustard grilled double, special sauce, American, onion, pickle

$14.50

Greek Platter

Pita, horiatiki salad

Chicken $11.50

Lamb $11.50

Combination $12.50

Gyro

Lettuce, tomato, onion, tzatziki, chicken or lamb, choice of side

$11

Combination $12.50

SAUSAGE & PEPPER HERO

Sweet sausage, bell peppers, plum tomato sauce, hoagie

$13

Make it a parmesan hero $2
Sides
Grilled Asparagus

$6.50

Roasted Vegetables

$5.50

Fries

$4.50

Housemade Chips

$4.50

Sweet Potato Fries

$5.50
*Items may be cooked to order. Consuming raw or undercooked meats, poultry, seafood, shellfish or egg may increase your risk of foodborne illness.
Dinner
Starters
Mozzarella En Carozza

Beer battered mozzarella & sourdough sandwich, plum tomato sauce

$13

vegetarian

ARANCINI

Crispy saffron risotto balls, parmesan, basil, plum tomato sauce

$13

Grandpa's Meatball

½ pound, 6 hour sauce, parmigiana, basil

$14

LITTLENECK CLAMS

Twisted IPA, bacon, shallot, garlic, mustard, ciabatta

$15

Crispy Brussel Sprouts

Eastern NC BBQ, blue cheese, pecans, chili mayo

$13

vegetarian

Add pulled pork $5

Hummus Trio

Traditional, black bean, red lentil & roasted carrot, feta, pita, veggies

$12

vegetarian

Gluten Substitute

PEI MUSSELS

Smoked tomato broth, shallot, garlic, ciabatta

$13
Greens
Caesar

Traditional, as you would expect it

$9.50

Greek Salad

Greens, cabbage, carrots, tomatoes, Kalamata olives, cucumbers, pepperoncinis, red onions, feta

$10

gluten free, vegetarian

House Salad

Greens, cabbage, carrots, tomatoes, cucumbers, red onions

$9

gluten free, vegetarian

Dressings

Greek, Ranch, Blue Cheese, Caesar, Oil & Vinegar

WINTER CAPRESE

Roasted tomatoes, burrata, basil pesto, balsamic honey

$15

Add Ons

Lamb $4.50

Chicken $5

Trout $6
BREADS
CHRISTMAS BREAD

Fresh baked, Chef's selection of cured meats, black pepper, marinara

$13

FOCACCIA

Fig jam, ricotta & honey, whipped salted butter

$13

Add Chef's selection of meats $8
Handhelds
All handhelds are served with your choice of house cut & seasoned fries or chips. Gluten free bun + 2
Philly Steak Sub

Ribeye or chicken, onions, peppers & mushrooms, mayo, mozzarella,

$14.50

Add onions, peppers & mushrooms $1

Portobello Patty Melt

Roasted, Swiss, caramelized onions, rye

$13.50

vegetarian

Southern Fried Chicken

Lemon slaw, pickles, special sauce, traditional bun

$14

Eggplant Parm Sub

Plum tomato sauce, mozzarella

$13

vegetarian

Smashburger

Mustard grilled double, special sauce, American, onion, pickle

$15

Sides

Grilled Asparagus $6.50

Fries $4.50

Roasted Vegetables $5

Housemade Chips $4.50

Sweet Potato Fries $5.50
Stone Hearth Pies
12" pies | Gluten-free crust $3 | Additional toppings are $1.5 each | Extra cheese is $2
Black Trumpet Farms Shroom

Local wild shrooms, plum tomato, fresh mozzarella, garlic, sea salt, cracked pepper

$16.50

vegetarian

Gluten Substitute

Italian Hero

Pepperoni, salami, capicola, soppressata, Italian sausage

$16.50

Gluten Substitute

White Pizza (No Sauce)

EVOO, garlic, ricotta, fresh mozzarella, Provolone, fontina, fresh oregano

$15.50

vegetarian

Gluten Substitute

Jersey Inspired Cheese

Fresh basil or add your favorite toppings

$14.50

vegetarian

Craft Your Own Pies

Meat Toppings*: Pepperoni, Soppressata, Italian Sausage, Bacon, Salami

Veggie Toppings: Tomatoes, Olives, Bell Peppers, Onions, Wild Mushrooms, Garlic
Handcrafted Pasta & Such
TRENETTE ALA CARBONARA

Guanciale, black pepper, egg yolk, parmigiana reggiano

$18

Add grilled chicken $5

CHIOCCIOLE ALA VODKA

Bacon, shallots, vodka plum tomato cream, touch of chili flake

$19

ZUPPE DI PESCE

Squid ink bucatini, clams, mussels, shrimp, scallops, cherry tomatoes & garlic

$22

GARGANELLI ALA RAGU BOLOGNESE

6 hour meat sauce, celery, carrots, onion, pecorino

$20

Lasagna

Baked to order, 6 hour meat sauce, bechamel, tossed greens

$18

RAVIOLI PARMIGIANA FONDUTA

Peas, bacon, parmesan butter sauce

$19

Add grilled chicken $5
Entrées
LAMB BOURGUIGNON

Red wine braised leg, carrots, pearl onion, potatoes,bacon, local shrooms, pan jus

$28

CHICKEN SCARPARIELLO

Pan-seared breast, Italian sausage, onions, cherry peppers, butter, crispy potatoes

$23

Pecan Crusted Carolina Mountain Trout

Whiskey apples, lemon butter, mash potatoes

$24

*RIB CAP STEAK

Chargrilled, red wine coffee jus, pickled onion, horseradish mash potatoes

$29

SEAFOOD SAINT JACQUES

Shrimp & scallops, local shrooms, white wine tarragon cream, parmesan gratin

$28

*STEAK DIANE

Eye of rib, local shrooms, brandy demi cream, Hasselback potato

$31
*Items may be cooked to order. Consuming raw or undercooked meats, poultry, seafood, shellfish or egg may increase your risk of foodborne illness.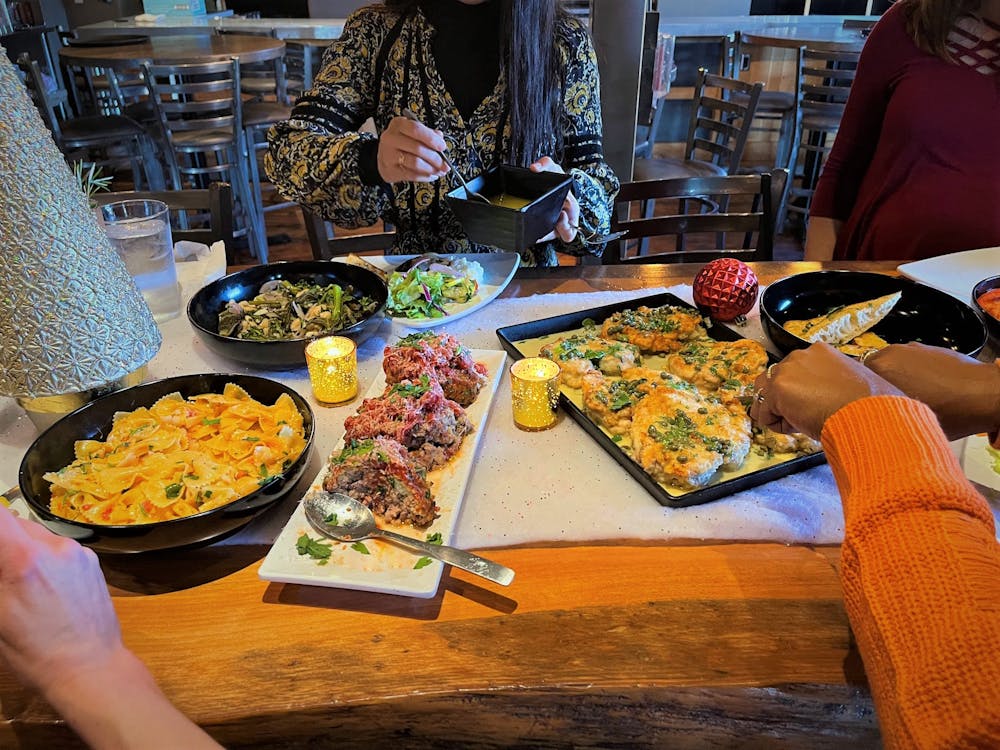 Looking to share a delicious meal with a larger group of loved ones this Holiday season?
Join us for one of our Family Style Dinners created especially to be enjoyed by larger parties of between 8-20 guests.
Just contact jordan@twistedlaurel.com today for all the details and to reserve your table for an unforgettable dining experience.
Spots are filling up fast!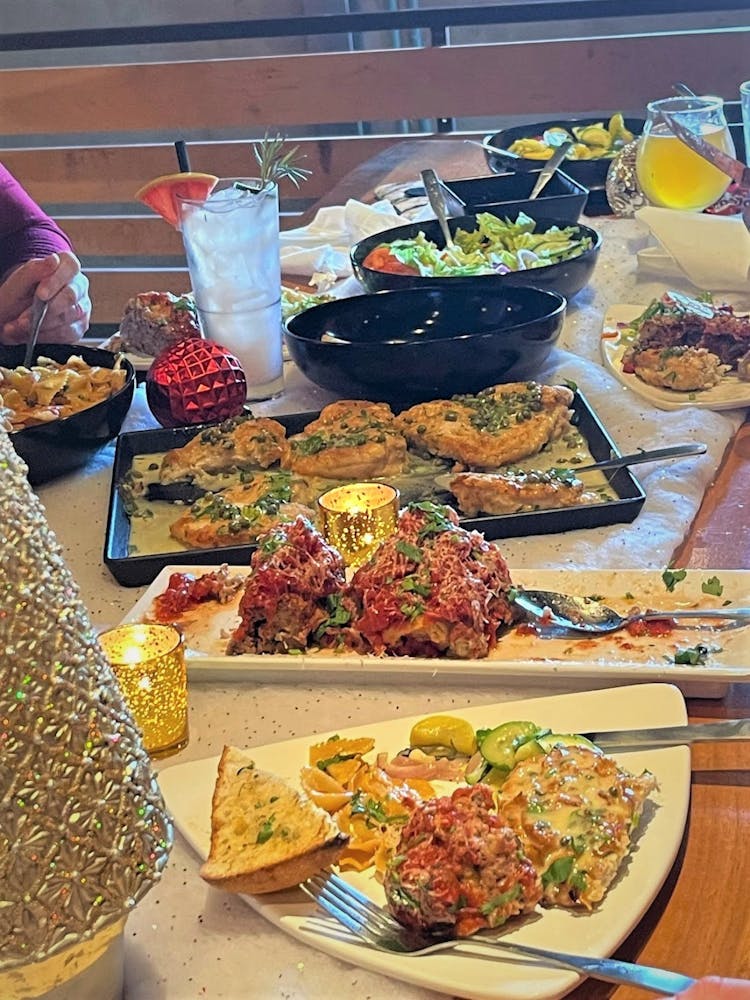 Drinks
Reds
House: Cabernet, Malbec

$7

$25

La Maldita, Rioja Garnacha 2018

Spain

$8

$28

Château La Nerthe, Côtes du Rhône Villages Les Cassagnes 2018

Rhone Valley, France

$12

$44

Bodegas LAN, Rioja Crianza Tempranillo 2017

Rioja, Spain

$10

$36

Cosentino Winery, Lodi The Dark 2017

California

$11

$40

Sokol Blosser, Pinot Noir Evolution 2018

Willamette Valley, Oregon

$10

$36

Stephen Vincent, Cabernet Sauvignon 2018

Napa Valley, California

$13

$48

Domaine Bousquet Winery, Malbec Reserve Tupungato 2019

Malbec, Argentina

$10

$36

Perelada 3 Finques, Red Blend 2017

Spain

$8.50

$30

Hoopla, Cabernet Sauvignon 2014

California

$50

J. Lohr Vineyards and Wines, Pure Paso Proprietary Red 2017

Paso Robles, California

$56

20 Rows Cabernet

Napa Valley, California

$44

Cline Merlot

Sonoma, California

$8.50

$30
Whites & Others
House: Chardonnay, Pinot Grigio, Moscato, Rose

$7

$25

Casa Do Valle, Vinho Verde 2019

Portugal

$9

$32

Nautilus Estate, Sauvignon Blanc Marlborough 2019

New Zealand

$11

$40

Villa Pozzi, Sicilia Moscato

Scicily, Italy

$8

$28

Gundlach Bundschu, Chardonnay 2018

Sonoma Coast, California

$13

$48

Castello Banfi, Toscana Pinot Grigio San Angelo Winemakers Edition 2019

Tuscany, Italy

$10

$36

Garzon Albarino 2020

Uruguay

$10.50

$38

Domaine Houchart, Rose 2019

Côtes du Provence, France

$11

$40

Matchbook Wine Company, Chardonnay The Arsonist 2018

Dunnigan Hills, California

$10

$36

Simonsig Chenin Blanc 2019

South Africa

$9.50

$36

Stags Leap Sauvignon Blanc

Napa Valley, California

$54

Hindsight Vineyards, Chardonnay 2018

Napa Valley, California

$48

Wente Chardonnay

Central Coast, California

$36

Silvan Ridge Pinot Gris

Willamette Valley, Oregon

$42

The Ned Sauvignon Blanc

New Zealand

$38
Bubbles
Mistinguett Cava

Spain

$8

$28

Mistinguett Rose Cava

Spain

$8

$28

Cavicchioli 1928 Prosecco

Italy

$9

$32

Andre Chemin, Champagne Premier Cru Blanc de Noirs

Champagne, France

$70
Cocktails
POM SPRITZER

Titos Vodka, Velvet Falernum, pomegranate, lemon juice, rosemary topped with soda

$13.50

DRUNKEN MULE

Ketel One, Domaine De Canton, house ginger beer (ASK ABOUT OUR FLAVORED MULES!)

$12.50

KANELA MARGARITA

Corralejo Anejo, Grand Manier, orange, cinnamon, fresh sour, apple cider, cinnamon sugar rim

$14.50

SEASONAL G&T

Local Chemist barrel rested gin, apple, pear, fall spice & tonic

$14

HONEY, IT'S THYME

Knob Creek, lemon, orange, cinnamon, honey & thyme

$14

TWISTED HOUSE OLD FASHIONED

Bulleit Rye, muddled orange peel & Luxardo cherry, Angostura aromatic bitters

$13.50

Jalapeño Rosemary Paloma

Hornitos Reposado tequila, Grand Marnier, jalapeno, rosemary & grapefruit juice

$14.50

BLACK FIG MANHATTAN

Elijah Craig Bourbon, Don Ciccio & Figli Nocino Walnut Liquor, fig demerara & orange bitters

$14.50
Refreshers
Devil's Foot

(made locally) Ginger Berry, Berry Lemonade, Limeade

Waynesville Soda Jerks

(made locally) Strawberry Rhubarb, Lemon-Lavender, Raspberry Cream

San Pellegrino

Green Man

Root Beer

Lagunitas

Happy Water
Bottles & Cans
Bud Light

Michelob Ultra

Miller Lite

PBR Tall Boy

Corona

Heineken

Stella Artois

Truly Wildberry Seltzer
Kids
Available for our guests age 12 and under. All Handhelds and Entrees are served with choice of beverage.
Handhelds
Choice of side
Angus Burger

Choice of cheese

$7.50

Chicken Fingers

Choice of dipping sauce

$6.50

Grilled Cheese

On Texas toast or pita

$6.50

Steak & Cheese

Shaved ribeye, mozzarella, on a kaiser roll

$6.50
Sides
Fries

$3.50

Sweet Potato Fries

$4

House Chips

$3.50

House Salad

$4

Seasonal Vegetables

$4
Entrées
Available after 4pm only
Pasta Marinara

Spaghetti, tomato sauce, garlic bread

$8

Grilled Trout

Whipped potatoes, broccolini

$11

Grilled Chicken Breast

Whipped potatoes, broccolini

$10
Doggies
We love doggos just like you do and yes, they can come and enjoy a fresh, home-cooked meal along with you on our patio!
You can either choose from one of our kitchen selections or something made by local, dog food delivery copmany, Waggin Meals.
Water bowls also always offered.
PROTEIN
Grilled trout

$6

Burger

$6

Scrambled Eggs

$4
Snacks & Desserts
Celery & Peanut Butter

$4

The Hop Doggie Ice Cream (local)

$4
Veggies
Grilled Brussels Sprouts

$3.50

Asparagus

$4

Sweet Potato

$4
Waggin Meals
We've partnered with Christie Stewart at locally made Waggin Meals to offer some of the best, preservative free, all natural dog food around!
Pupaloaf

Turkey, chicken, rice, oatmeal, green beans, cottage cheese, apples

$6

Salmon & Rice

Salmon, rice, veggies, fruit, coconut oil

$9

Freshly Baked Doggie Treats

$5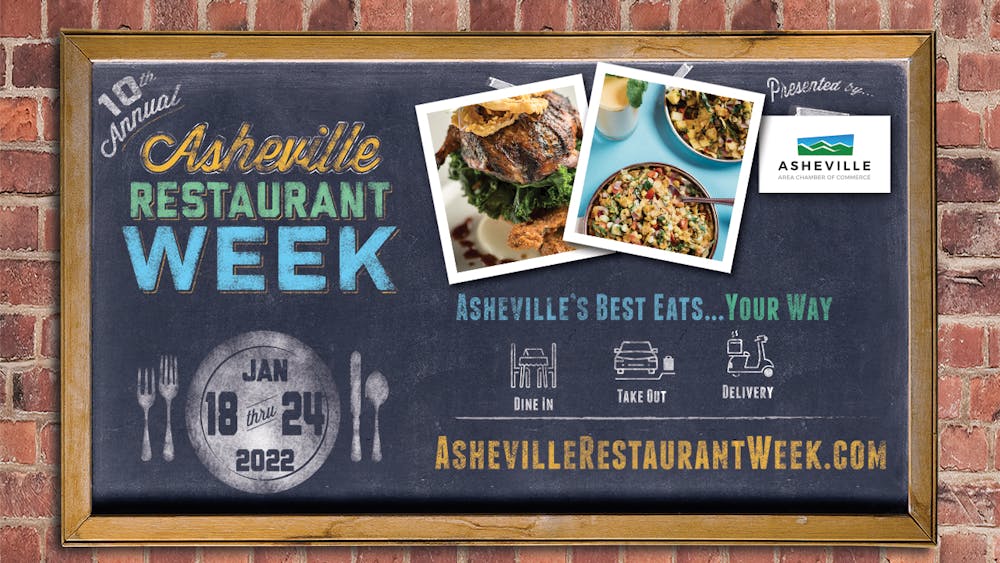 We are once again proud to be participating in Asheville Restaurant Week, presented by the Asheville Chamber of Commerce, now celebrating TEN YEARS of showcasing the vibrant food and beverage scene in our city.
Join us for a prex fixe, 3-course culinary experience you won't forget from Executive Chef Tom LaFauci in one of our beautiful dining rooms or out on our dog-friendly patio (if the weather is nice!) for just $45* per person.
Check out all the other participating restaurants in Asheville.
*Does not include drinks, taxes, or gratuity. Making reservations is highly recommended due to limited capacity. Reservations for parties up to 6 can be made through our website while parties over that are invited to call the restaurant at 828-552-3240. Curbside pickup also available for these, and all our other dishes.
***Twisted Laurel is rapid testing all staff in order to begin their shifts in our attempts to keep everyone as safe as can be! 🙂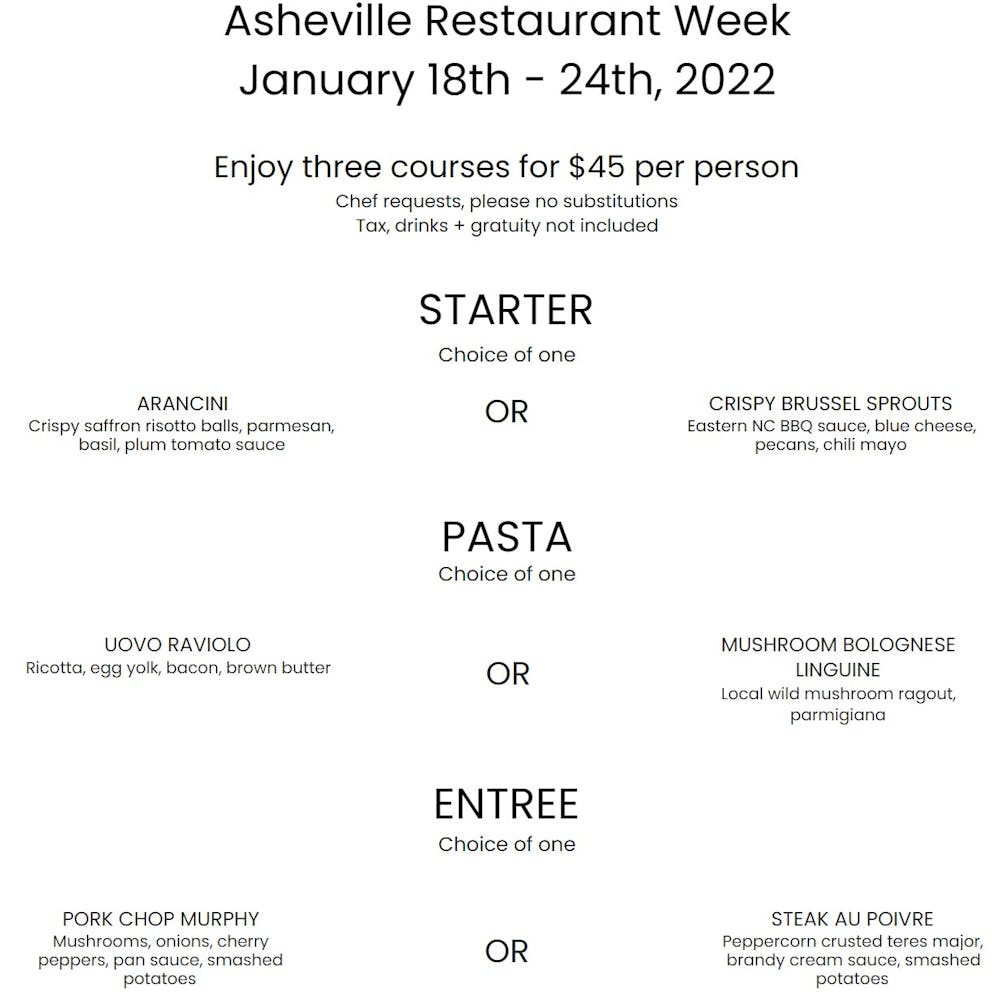 Download PDF