Main content starts here, tab to start navigating
Downtown Asheville
Starters
Meatball Sliders

Brioche bun, whipped ricotta, parm, basil

$14

Crispy Brussel Sprouts

Eastern NC BBQ, blue cheese, pecans, chili mayo.

$13

vegetarian

Add pork belly $5

Hummus Trio

Traditional, black bean, red lentil & roasted carrot, feta, pita, veggies

$13

vegetarian

Twice Cooked Cauliflower

Roasted + tempura fried, Calabrian chili vinaigrette

$12

Caveman "Wings"

Fried + chargrilled legs. Plain, buffalo, lemon pepper dry rub, Cheerwine BBQ, or mango chili. 3 for $12 / 5 for $16
Greens
Caesar

Traditional, as you would expect it

$9.50

Greek Salad

Greens, cabbage, carrots, tomatoes, Kalamata olives, cucumbers, pepperoncinis, red onions, feta

$10

gluten free, vegetarian

House Salad

Greens, cabbage, carrots, tomatoes, cucumbers, red onions

$9

gluten free, vegetarian

Caprese

Heirloom tomatoes, fresh mozzarella, basil pesto, balsamic honey

$15

Wedge Salad

Blue cheese crumbles, tomatoes, bacon, blue cheese dressing

$10

Dressings

Greek, Ranch, Blue Cheese, Caesar, Oil & Vinegar

Add Ons

Lamb $4.50

Chicken $5

Trout $6

Veggie "Burger" $7
Grandma Pizza
Thin crust, square pies | Gluten free crust $3 | Additional toppings are $2 each | Extra cheese is $2
Black Trumpet Farms Shroom Pie

Local wild shrooms, plum tomato, fresh mozzarella, garlic, sea salt, cracked pepper

$17

vegetarian

Spicey Pepp

Fra Diavolo sauce, mozzarella, double pepperoni

$17

Garden Fresh

Fresh mozzarella, peppers, onions, tomatoes, broccoli, garlic, EVOO

$17

White Pizza (No Sauce)

EVOO, garlic, ricotta, fresh mozzarella, provolone, fontina, fresh oregano

$16

vegetarian

Jersey Inspired Cheese

Fresh basil or add your favorite toppings

$15

vegetarian

Craft Your Own Pies

Meat Toppings*: Pepperoni, Soppressata, Italian Sausage, Bacon, Salami

Veggie Toppings: Tomatoes, Olives, Bell Peppers, Onions, Wild Mushrooms, Garlic
Handhelds & More
All handhelds are served with your choice of house cut & seasoned fries or chips. Gluten free bun $2
Pastrami Sandwich

Spicey brown mustard, toasted rye

$15

Philly Steak Sub

Ribeye or chicken, mayo, mozzarella, choice of side

$15

VEGGIE "BURGER"

Sweet potatoes, black beans, lettuce, tomato, red onion, avocado spread

$14

Grilled Trout BLT

Carolina Mountain trout, tomato, lettuce, thick cut bacon, Duke's mayo

$14

Southern Fried Chicken

Lemon slaw, pickles, special sauce, traditional bun

$13.50

S.P.B.L.T.

Smoked pork belly, lettuce, tomato, Texas toast, Duke's mayo

$13.50

Turkey Club

Turkey, cheddar, lettuce, tomato, bacon, Texas toast, Duke's mayo

$14

Reuben

Corned beef, Russian dressing, Swiss cheese, sauerkraut

$15

Smashburger

Mustard grilled double, special sauce, American, onion, pickle

$15

Chicken Tenders

Plain, Buffalo, Lemon Pepper Dry Rub, Cheerwine BBQ, Mango Chili

$13

Gyro

Lettuce, tomato, onion, tzatziki, choice chicken or lam, and of side

$13

Combination $14

Greek Platter

Pita, horiatiki salad

Chicken or Lamb $12.50

Combination $13.50
Sides
Grilled Asparagus

$6.50

Roasted Vegetables

$5.50

Fries

$4.50

Housemade Chips

$4.50

Sweet Potato Fries

$5.50
*Items may be cooked to order. Consuming raw or undercooked meats, poultry, seafood, shellfish or egg may increase your risk of foodborne illness.
Starters
Smoked Pork Belly

Cast iron seared, honey Campari glaze, lemon slaw

$12

Meatball Sliders

Brioche bun, whipped ricotta, parm, basil

$14

Crispy Brussel Sprouts

Eastern NC BBQ, blue cheese, pecans, chili mayo

$13

vegetarian

Add pork belly $5

Hummus Trio

Traditional, black bean, red lentil & roasted carrot, feta, pita, veggies

$12

vegetarian

Gluten Substitute

Twice Cooked Cauliflower

Roasted + tempura-fried Calabrian chili vinaigrette

$12

Caveman "Wings"

Fried + chargrilled legs. Plain, buffalo, lemon pepper dry rub, Cheerwine BBQ, or mango chili. 3 for $12 / 5 for $16
Greens
Caesar

Traditional, as you would expect it

$9.50

Greek Salad

Greens, cabbage, carrots, tomatoes, Kalamata olives, cucumbers, pepperoncinis, red onions, feta

$10

gluten free, vegetarian

House Salad

Greens, cabbage, carrots, tomatoes, cucumbers, red onions

$9

gluten free, vegetarian

CAPRESE

Heirloom tomatoes, fresh mozzarella, basil pesto, balsamic honey

$15

Wedge Salad

Blue cheese crumbles, tomatoes, bacon, bleu cheese dressing

$10

Dressings

Greek, Ranch, Blue Cheese, Caesar, Oil & Vinegar

Add Ons

Lamb $4.50

Chicken $5

Trout $6
Handhelds
All handhelds are served with your choice of house cut & seasoned fries or chips. Gluten free bun + 2
Philly Steak Sub

Ribeye or chicken, onions, peppers & mushrooms, mayo, mozzarella,

$15

Southern Fried Chicken

Lemon slaw, pickles, special sauce, traditional bun

$14.50

Veggie "Burger"

Sweet potatoes, black beans, lettuce, tomato, red onion, avocado spread

$14

Smashburger

Mustard grilled double, special sauce, American, onion, pickle

$15

Sides

Grilled Asparagus $6.50

Fries $4.50

Roasted Vegetables $5.50

Housemade Chips $4.50

Sweet Potato Fries $5.50
Grandma Pizza
Thin Crust square pies | Gluten-free crust $3 | Additional toppings are $1.5 each | Extra cheese is $2
Black Trumpet Farms Shroom Pie

Local wild shrooms, plum tomato, fresh mozzarella, garlic, sea salt, cracked pepper

$17

vegetarian

Gluten Substitute

Spicey Pepp

Fra Diavolo sauce, mozzarella, double pepperoni

$17

Garden Fresh

Fresh mozzarella, peppers, onions, tomatoes, broccoli, garlic, EVOO

$17

White Pizza (No Sauce)

EVOO, garlic, ricotta, fresh mozzarella, carmelized onions, oregano

$16

vegetarian

Gluten Substitute

Jersey Inspired Cheese

Fresh basil or add your favorite toppings

$14

vegetarian

Craft Your Own Pies

Meat Toppings*: Pepperoni, Soppressata, Italian Sausage, Bacon, Salami

Veggie Toppings: Tomatoes, Olives, Bell Peppers, Onions, Wild Mushrooms, Garlic
Handcrafted Pasta & Such
Bucatini

Sweet sausage, tomatoes, coriander, nduja butter sauce

$20

Tortellini

Prosciutto & mortadella filling, sage brown butter, balsamic reduction

$20

Fettuccine

Smoked salmon, charred green onions, corn cream

$19

Mezzaluna

Braised leek filling, local shrooms, parmesan

$20

Pasta Al Forno

Gemelli, smoked tomato vodka sauce, bacon, mozzarella

$17

Uovo Raviolo

Ricotta + parmesan filling, egg yolk, smokey bacon butter

$20
Entrées
Smoked Lamb "Carnitas"

Smoked pulled lamb, carrot puree, fresh blackberry relish

$25

Rock Shrimp Ragout

Fennel saffron tomato cream, asparagus, polenta

$26

Ribeye

Philadelphia style with caramelized onions, homemade whiz, garlicky broccoli rabe

$29

Carolina Mountain Trout

Pecan Crusted, bourbon peaches, lemon butter, mashed potatoes

$25

Teres Major

Shiitake mushroom ragout, horseradish cream, crispy onion rings

$26

Pan Roasted Cod

White clam sauce, garlic white wine butter, linguine

$25
*Items may be cooked to order. Consuming raw or undercooked meats, poultry, seafood, shellfish or egg may increase your risk of foodborne illness.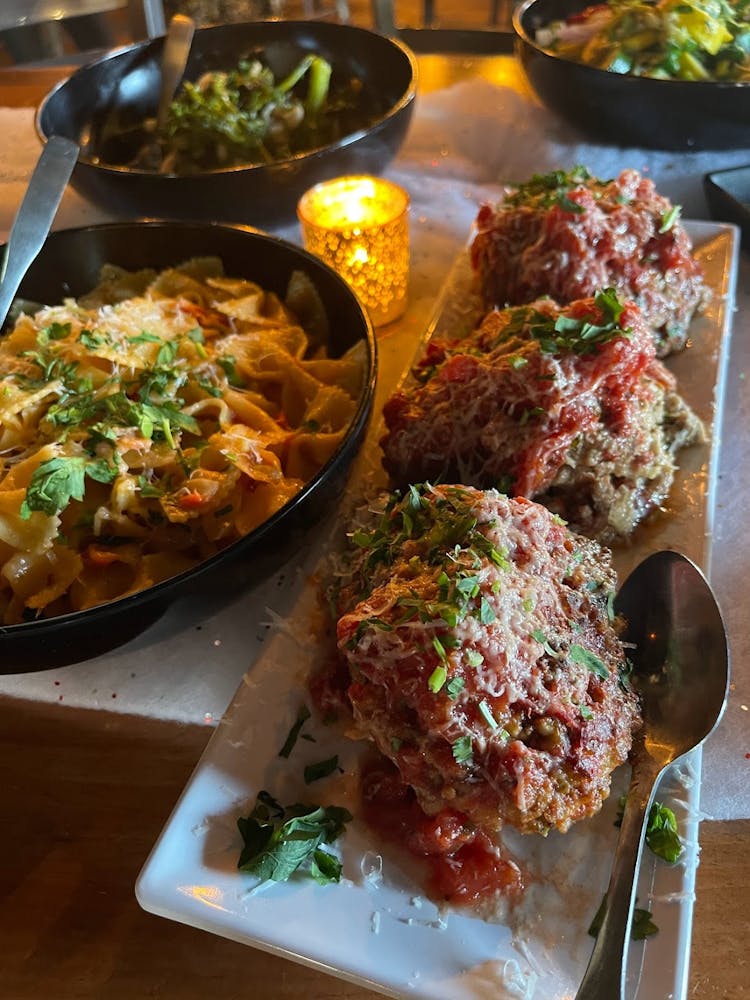 Looking to share a delicious meal with a larger group of loved ones?
Join us for one of our Family Style Dinners created especially to be enjoyed by larger parties of between 7-20 guests*.
Parties of 6 and under are welcome to make a reservation online.
Contact jordan@twistedlaurel.com today for all the details and to reserve your table for an unforgettable dining experience.
*Reservations can only be made up to 3 weeks in advance
Drinks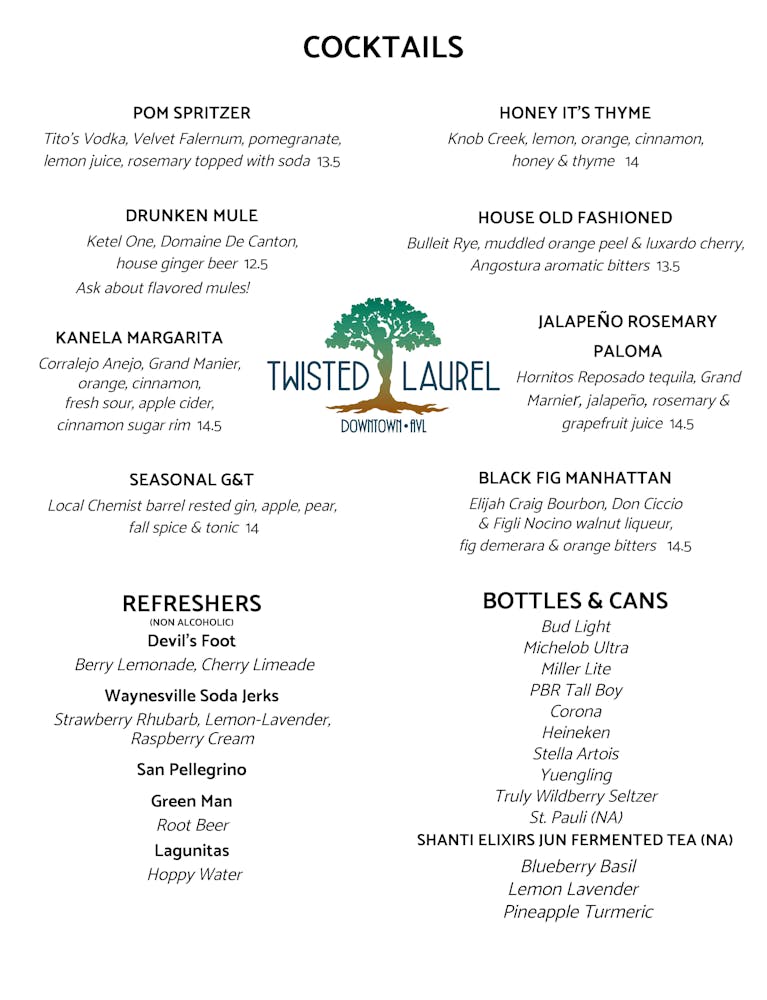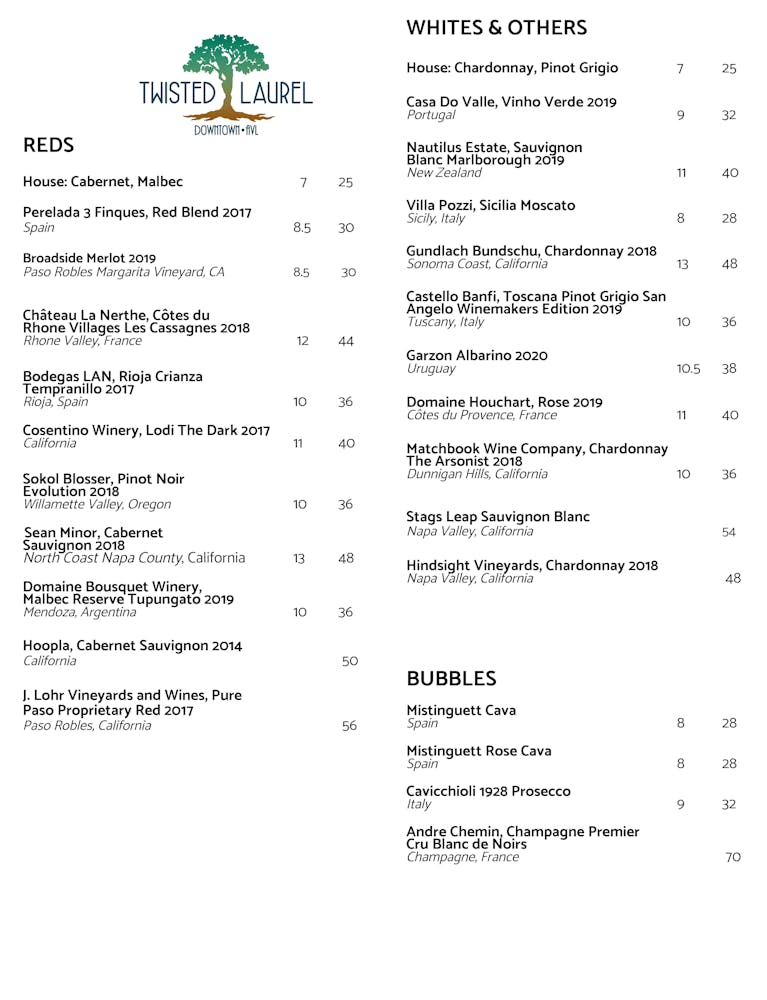 Kids
Available for our guests age 12 and under. All Handhelds and Entrees are served with choice of beverage.
Handhelds
Choice of side
Angus Burger

Choice of cheese

$7.50

Chicken Fingers

Choice of dipping sauce

$6.50

Grilled Cheese

On Texas toast or pita

$6.50

Steak & Cheese

Shaved ribeye, mozzarella, on a kaiser roll

$6.50
Sides
Fries

$3.50

Sweet Potato Fries

$4

House Chips

$3.50

House Salad

$4

Seasonal Vegetables

$4
Entrées
Available after 4pm only
Pasta Marinara

Spaghetti, tomato sauce, garlic bread

$8

Grilled Trout

Whipped potatoes, broccolini

$11

Grilled Chicken Breast

Whipped potatoes, broccolini

$10
Doggies
We love doggos just like you do and yes, they can come and enjoy a fresh, home-cooked meal along with you on our patio!
You can either choose from one of our kitchen selections or something made by local, dog food delivery copmany, Waggin Meals.
Water bowls also always offered.
PROTEIN
Grilled trout

$6

Burger

$6

Veggie "Burger"

$7

Scrambled Eggs

$4
Snacks & Desserts
Celery & Peanut Butter

$4

Doggie Ice Cream

$4
Veggies
Grilled Brussels Sprouts

$4

Asparagus

$4

Sweet Potato

$4